Bobby Thomas
Joined on Sep 16, 2010
changing lives

Dannille Paul
Joined on Sep 16, 2010

Fatima Giron
Joined on Sep 16, 2010
Medicine and Helping others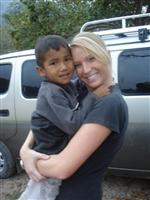 Kelly Wenzel
Joined on Sep 16, 2010
Robert Soloski
Joined on Sep 16, 2010

Yassmin Simmonds (Administrator)

Joined on Sep 16, 2010
These words are from my heart: Like a ship in the bluest of oceans, let us expand our sails, let the winds of courage lead us on a path that is inspiring, filled with joy and endless sunshine. Let us share a smile together. I hope that you feel encouraged by the most unconventional encounters with compassionate people, for those moments make the journey that much more exhilarating. I hope to be a force that can help others, this is not about me, but rather those that I hope to help, those that I hope to share a smile with. This Journey that I have started, is the first step of many.In everything that I do, I do it out of LOVE... "And so the journey begins" :)

Stephanie Kandasami (Administrator)

Joined on Sep 16, 2010
My ultimate goal is to continue to empower communities through my passion of healing and caring for those around me. I believe change starts with motivated and patient people willing to make a great difference in the world.
Ashley Luse
Joined on Feb 08, 2011
• Social Entrepreneurship & Innovative Finance as sustainable approaches to international development • Socially-Responsible Investing • Empowerment of women • Global Business Brigades!

Gracia Giron
Joined on Feb 22, 2011

Evelyn Quist
Joined on Mar 08, 2011
Global Health Awareness and Empowerment