University of Buffalo Medical School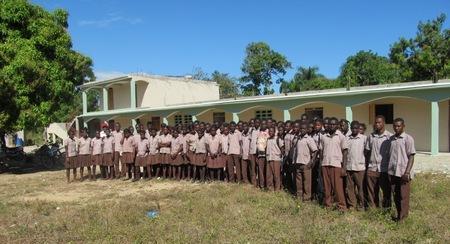 About
"Education leads to success, and success leads to a healthy economy that will in turn contribute to the well-being of all. Please help the children of Fontaine go to school. Please help provide them with a future rather than perpetuating the problems of the past." Pierre-Louis Joizil

Friends of Fontaine is a 501(c)3 tax-exempt organization dedicated to supporting community-based development in Fontaine, Haiti. We believe every child has a right to an education, and are striving to make that belief a reality in Fontaine. Our goal is to provide high quality secondary education so our students may confidently face the challenges of life in rural Haiti, and lead their community to a better future.
$21,026
Fundraised
in Program Contributions
P.O. Box 11376
Albany, New York, United States
http://www.friendsoffontaine.com
n/a
friendsoffontaine@gmail.com
UB Medical Mission to Haiti April 2017
Affiliated Organization: Friends of Fontaine
Chapter: University of Buffalo Medical School
Start Date: Apr 08 2017 08:00 AM
End Date: Apr 16 2017 08:00 PM
---

Volunteer Activity Description
$3,408.75
of $12,000.00
in donations needed to reach the Initiative Goal
Complete
Thank you for your support!
11
of 12
volunteers needed to reach the Initiative Goal