Organization:
Service For Peace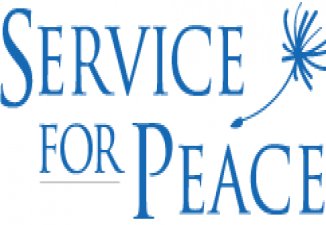 Chapter:
Service For Peace - Louisville

Service For Peace
About Us
Service For Peace is an independent nonprofit organization providing service and learning opportunities through community projects which promote transformational and sustainable personal and community development around the world.

What we do: We bring together people and partners of diverse faiths, ethnicities, nationalities, generations, and cultures to address profound social needs by discovering commonality and genuine appreciation for differences – all through service.

What we believe in: We believe that peace begins with the inner peace fostered by service to others and that active cooperation provides the foundation and the real hope for peace.

View Upcoming:
MLK Challenge 2011 is a partnership between Service for Peace and Points of Light, and is supported by a grant from the Corporation for National and Community Service. Martin Luther King Day is one of our country's most important federal holidays, marking the birth of Rev Dr. Martin Luther King Jr. It is observed on the third Monday in January each year. This year is the 25th anniversary of the federal holiday. Each year to celebrate the holiday, Service for Peace, Points of Light, and the Corporation for National and Community Service along with local organizations mobilize thousands of volunteers to serve their neighbors and their communities in memory of Dr. King. The 2011 MLK Challenge will continue this tradition.
Why participate?
More and more children and families in neighborhoods and communities throughout America are going to bed hungry! You can lend a helping hand in the spirit of Dr. Martin Luther King Jr.
How you can get involved!
• Host a Sunday Supper www.handsonnetwork.org/events/mlk Ask participants to bring some non-perishable food items with them that you can gather and give to your local food pantry or food bank.

• Encourage your church or faith community to organize a MLK Jr. Food Drive and have them bring those items in on the weekend of Jan. 18th-20th 2013. Just assign one person to collect the food and deliver it to your local food pantry or FOOD BANK.

• Ask MLK volunteers to bring some food items with them when they come to volunteer on MLK Day of Service!

We believe all men in our community should set high standards of morality, ethics and hard work.

It is our goal that we become reliable men, providers, husbands, fathers and collaborative community leaders.

We endeavor to strengthen men and their extended families through mentoring, peacemaking, justice, reconciliation and shared prosperity.
Service For Peace involves college students in voluntary service programs designed to increase international cooperation and to break the cycle of poverty in nations throughout Latin America and the Caribbean. We form strategic alliances with colleges, government ministries, NGOs and businesses to provide experiential learning and training in leadership development, citizenship, social responsibility and information technology.